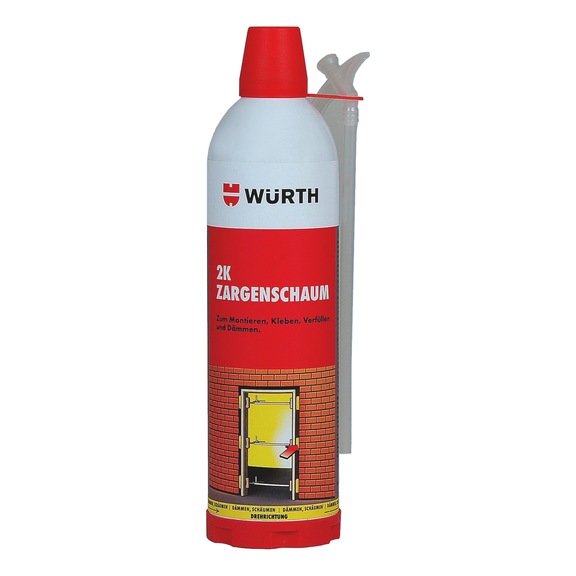 For detailed information, other images and documents, please select individual articles from the following table.
No pressure required. Cures without additional moisture.
Chemical basis: Two-component polyurethane
Colour: Green
Smell/fragrance: Characteristic
Moulded density: 35 kg/m³
Cell structure: Fine
Tack-free after: 14 min
Can be cut after: 35 min
Full resilience: 60 min

Final spreading possible after: 60 min
Min./max. processing temperature: 10 to 25 °C
Min./max. ambient processing temperature: 10 to 10 °C
Min./max. processing temperature for can: 10 to 25 °C
Min./max. temperature resistance: -40 to 90 °C
Max. short-term temperature resistance: 120 °C
Min. tensile strength: 16 N/cm²
Elongation at break: 30 %
Yield (volume) approx.: 13 l
Contents: 400 ml
Building material class: B3 - Of high flammability
Shelf life from production: 9 Month
Conditions to maintain shelf life from production: at 20°C
Exclusively for trade customers
Register now and access more than 60,000 products
Call customer service: +43 50 8242 0



Variants
Packaging unit
The packaging unit defines the number of articles in one packaging. In the catalog segment you can choose from different packaging units if a pop-up menu is displayed.
Just leave the field empty if you don't know the packaging unit when directly entering the article number in the shopping basket or when importing with Easy-/VarioScan. The packaging unit will be determined automatically.
Structure of our article number
The article number is made up of the following: VVVVAAABBB
VVVV = 4 digits for prefix number (please note that the first digit is currently always 0)
AAA = 3 digits for dimension part 1
BBB = 3 digits for dimension part 2
Example article number structures:
Example 1: Screw with dimensions of 4x10 mm:
VVVVAAABBB
00574 10 (2 spaces between the 4 and the 10)
Example 2: Screw with dimensions of 10x20 mm:
VVVVAAABBB
005710 20 (1 space between the 10 and the 20)
Example 3: Flat washer with an internal diameter of 6 mm:
VVVVAAABBB
04076
Information on price display
Price per packaging unit (PU):
The displayed price is always in line with the displayed packaging, if the PU is 250 the price for 250 units, if the PU is 300 the price for 300 units.
Price with price key representation (PSL):
The price always applies to a quantity ruled through the price key:
Price for 1 unit
Price for 100 units
Price for 1000 units
Quantity
The quantity shows the number of pieces or units of measure contained in the order or delivery for the respective article.
In contrast to sales packaging and secondary packaging, the disposal costs for chemical-technical products are shown separately. The breakdown of the individual costs can be found on the relevant products and also in the shopping cart, as well as in our
General Terms and Conditions (GTC)
.
Art.-no.
Plus disposal costs -,-- per selected packing unit
Cust. Mat. No.
Exclusively for trade customers
Register now and access more than 60,000 products
Call customer service: +43 50 8242 0
Prices for customers after login
No pressure required during and after the curing phase


Highly adhesive


Tack-free after approx. 12–14 minutes


Can be cut after approx. 30–35 minutes


Cured after approx. 120 minutes
Notice
The can must not have a temperature of more than +25°C at the start of use


Apply the can promptly after the standing time and use up within 6 minutes. Always foam any excess material — do not leave in the can.


Only use to mount construction elements, e.g. door frames. Components must have sufficient inherent stability and should be correctly and professionally configured.


The use of door jamb spreaders is also strongly recommended for 2-component foams


Avoid use in conjunction with gas-blocking components or receptacles; conduct your own tests if necessary


Wear suitable protective gloves and safety glasses during application
Instructions
Never moisten the surfaces


Turn the red rotating ring at the bottom of the can round fully in the direction of the arrow at least six times


With the red cap facing downwards, shake the can approx. 30 times. Rattling inside indicates that the inner container is open


Remove the red cap, screw on the angled adapter


For the optimum foam texture, leave the shaken can to stand for approx. 30–40 seconds


When dispensing the foam, hold the can with the angled adapter pointing down. To check: Foam must have a uniform light green colour as it comes out. If this is not the case, turn red rotary ring a further 6 times and repeat shaking process. Immediately remove fresh splashes of foam with PU cleaner, art. no. 0892 16. Remove hardened foam with a tool (e.g. scrape off). Remove residue with professional foam cleaner (0892 160 000)!
Select RAL-colour code
!! NOTE: On-screen visualisation of the colour differs from real colour shade!!