Sealing compound 7 KS viscosity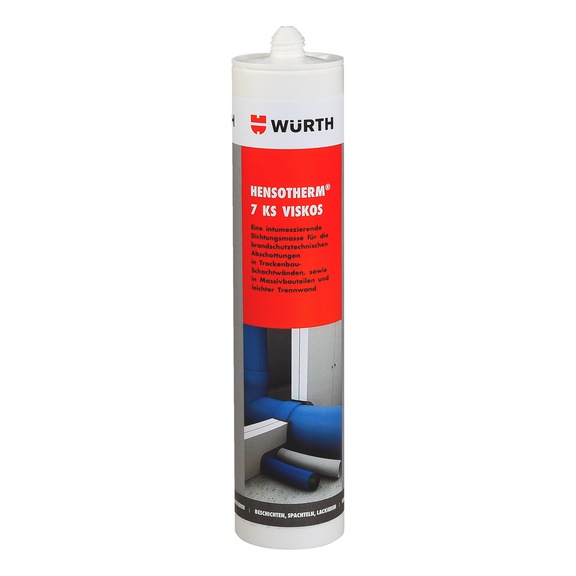 For detailed information, other images and documents, please select individual articles from the following table.
Sealing compound 7 KS viscosity
An intumescent sealing compound for fire-safe sealing of flammable pipes.
Container: Cartridge
Weight of content: 440 g
Colour: Anthracite, Grey
Conditions to maintain shelf life from production: dry storage area, 5°C to 30°C
Shelf life from production: 12 Month
Moulded density: 1.25 g/cm³
Ultraviolet resistance: Yes
Density: 1.25 g/cm³

Contents: 310 ml
Resistance against: Weather
Exclusively for trade customers
Register now and access more than 60,000 products
Call customer service: +43 50 8242 0
Variants
Packaging unit
The packaging unit defines the number of articles in one packaging. In the catalog segment you can choose from different packaging units if a pop-up menu is displayed.
Just leave the field empty if you don't know the packaging unit when directly entering the article number in the shopping basket or when importing with Easy-/VarioScan. The packaging unit will be determined automatically.
Structure of our article number
The article number is made up of the following: VVVVAAABBB
VVVV = 4 digits for prefix number (please note that the first digit is currently always 0)
AAA = 3 digits for dimension part 1
BBB = 3 digits for dimension part 2
Example article number structures:
Example 1: Screw with dimensions of 4x10 mm:
VVVVAAABBB
00574 10 (2 spaces between the 4 and the 10)
Example 2: Screw with dimensions of 10x20 mm:
VVVVAAABBB
005710 20 (1 space between the 10 and the 20)
Example 3: Flat washer with an internal diameter of 6 mm:
VVVVAAABBB
04076
Information on price display
Price per packaging unit (PU):
The displayed price is always in line with the displayed packaging, if the PU is 250 the price for 250 units, if the PU is 300 the price for 300 units.
Price with price key representation (PSL):
The price always applies to a quantity ruled through the price key:
Price for 1 unit
Price for 100 units
Price for 1000 units
Quantity
The quantity shows the number of pieces or units of measure contained in the order or delivery for the respective article.
In contrast to sales packaging and secondary packaging, the disposal costs for chemical-technical products are shown separately. The breakdown of the individual costs can be found on the relevant products and also in the shopping cart, as well as in our
General Terms and Conditions (GTC)
.
Art.-no.
Plus disposal costs -,-- per selected packing unit
Cust. Mat. No.
Exclusively for trade customers
Register now and access more than 60,000 products
Call customer service: +43 50 8242 0
Prices for customers after login
A sealing compound for flammable pipes that are routed directly on the floor.
Fire resistance class up to EI 90


Simple design and fast installation


Indoors and wet rooms


Solvent- and silicone-free, VOC emissions class A+
Notice
Usage for fire-rated partitions must comply with the ETA and the relevant assembly instructions.
Application area
For fire-safe partitioning of flammable pipes in shaft walls in dry walling, solid structures and lightweight dividing walls.
Instructions
The application surface must be clean and free from dust and grease. Apply the sealing compound in the ring gap until the cavity is filled. During application, observe the applicable regulations for occupational safety and accident prevention.
Select RAL-colour code
!! NOTE: On-screen visualisation of the colour differs from real colour shade!!