LM alkaline hygienic plant cleaner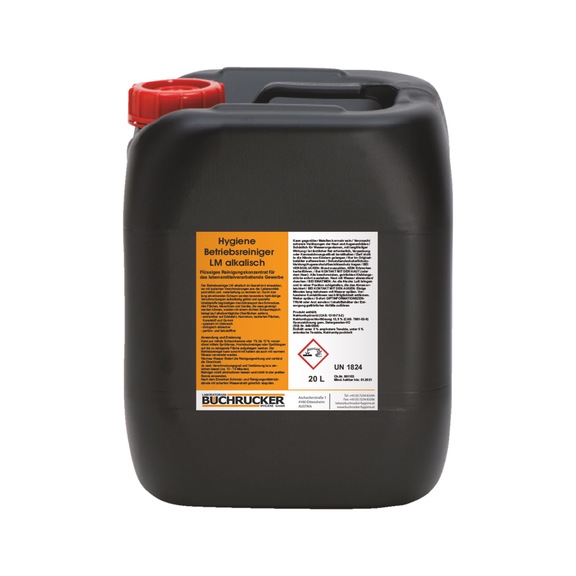 For detailed information, other images and documents, please select individual articles from the following table.
LM alkaline hygienic plant cleaner
Intensive foam liquid cleaning concentrate for production areas and slaughter premises, milking parlours and wine press plants and all food processing and production surfaces and equipment.
Ratio of ingredients: 1% - 10%
pH value: 12.5-13.0
Exclusively for trade customers
Register now and access more than 60,000 products
Call customer service: +43 50 8242 0
Variants
Packaging unit
The packaging unit defines the number of articles in one packaging. In the catalog segment you can choose from different packaging units if a pop-up menu is displayed.
Just leave the field empty if you don't know the packaging unit when directly entering the article number in the shopping basket or when importing with Easy-/VarioScan. The packaging unit will be determined automatically.
Structure of our article number
The article number is made up of the following: VVVVAAABBB
VVVV = 4 digits for prefix number (please note that the first digit is currently always 0)
AAA = 3 digits for dimension part 1
BBB = 3 digits for dimension part 2
Example article number structures:
Example 1: Screw with dimensions of 4x10 mm:
VVVVAAABBB
00574 10 (2 spaces between the 4 and the 10)
Example 2: Screw with dimensions of 10x20 mm:
VVVVAAABBB
005710 20 (1 space between the 10 and the 20)
Example 3: Flat washer with an internal diameter of 6 mm:
VVVVAAABBB
04076
Information on price display
Price per packaging unit (PU):
The displayed price is always in line with the displayed packaging, if the PU is 250 the price for 250 units, if the PU is 300 the price for 300 units.
Price with price key representation (PSL):
The price always applies to a quantity ruled through the price key:
Price for 1 unit
Price for 100 units
Price for 1000 units
Quantity
The quantity shows the number of pieces or units of measure contained in the order or delivery for the respective article.
In contrast to sales packaging and secondary packaging, the disposal costs for chemical-technical products are shown separately. The breakdown of the individual costs can be found on the relevant products and also in the shopping cart, as well as in our
General Terms and Conditions (GTC)
.
Art.-no.
Plus disposal costs -,-- per selected packing unit
Cust. Mat. No.
Exclusively for trade customers
Register now and access more than 60,000 products
Call customer service: +43 50 8242 0
Prices for customers after login
Special blend of surfactants for effective cleaning
Ideal for production areas, slaughter premises and milking parlours, as well as wine press plants and all food processing surfaces and equipment that can be cleaned with wet cleaning agents


Independently dissolves tough dirt such as faeces, urine, blood, egg, grease and other typical organic substances


Removes encrusted dirt


Reduces cleaning time; perfect shine and perfect cleaning results


Easier to apply with foam gun
Gentle on materials and surfaces
Does not attack stainless steel, aluminium, painted metal, plastic and rubber.
High yield
Solvent- and silicone-free
Can be used with oil separators; fast-separating in accordance with DIN 1999
Non-toxic when applied and biodegradable
Instructions
Applied to the surfaces to be cleaned either pure with foam gun or pre-diluted at 1% to 10% with spray lance or high-pressure cleaner. The cleaner can be used with cold or warm water; warm water generally promotes the cleaning effect and shortens the time needed for the cleaner to take effect. Depending on the degree of soiling and dilution, let it take effect briefly (approx. 5–30 min.). Do not allow the cleaner to dry; do not apply in direct sunlight. Then rinse dirt and detergent residue thoroughly using a strong water jet.
Select RAL-colour code
!! NOTE: On-screen visualisation of the colour differs from real colour shade!!